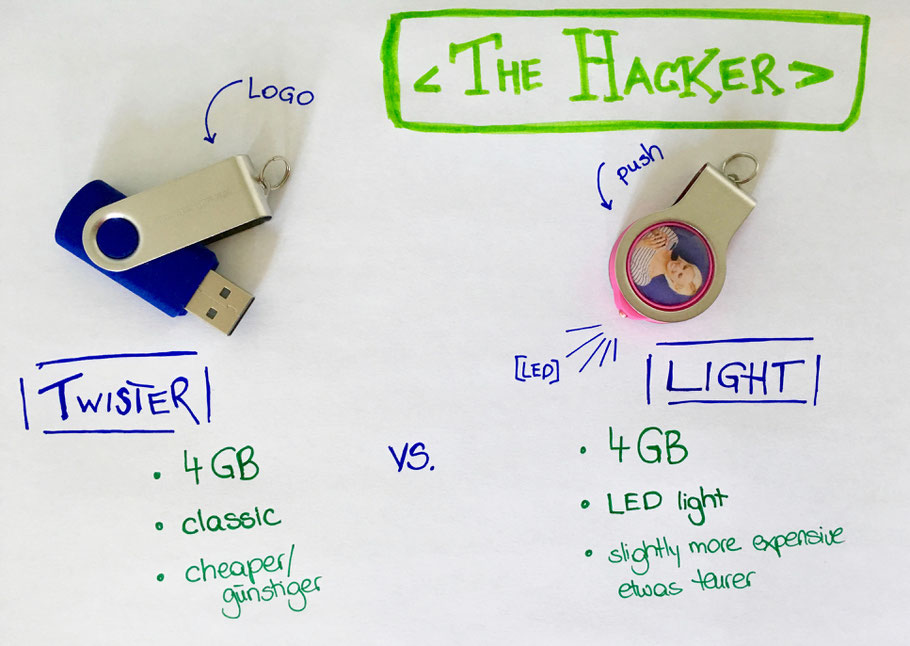 Cast your vote and shape our campaign perks
To translate our vision for the fanfic-inspired short film "The Hacker" onto the big screen, we'll need your support. 
Our crowdfunding campaign launches on 14th August, and we have amazing perks and events waiting for you. 
Want to shape the campaign?
Then choose your favourite USB-stick below!
The winning model will bear the film's logo and be one of the perks in our Indiegogo campaign. 
Stimme ab und gestalte die Dankeschöns aktiv mit
Damit wir unsere Vision für "The Hacker", Julias zweiten Kurzfilm, auf die Leinwand übertragen können, brauchen wir Eure Hilfe. 
Unsere Crowdfunding Kampagne startet am 14. August. Auf Euch warten tolle Dankeschöns und Events während den 30 Tagen. 
Wollt Ihr die Kampagne mit gestalten?
Dann wählt euren USB-Stick-Favoriten!
Das Gewinnermodel wird mit dem Logo unseres Kurzfilms bedruckt und als Dankeschön in unserer Indiegogo Kampagne angeboten. 
---
---
A note on the poll format: 
We're using a Facebook app. 
The free version allows you to record 38 votes. 
The free version won't display images correctly :( 
Next time, we'll do it on our homepage with a plug-in!
---
---
Zum Umfragen-Format: 
Wir benutzen eine Facebook App. 
Die Gratis-Version lässt nur 38 Stimmen zu. 
Die Gratis-Version zeigt auch Bilder nicht richtig an :( 
Nächstes Mal suchen wir uns ein Plug-in für unsere Homepage!