SPOTLIGHT: 7 Fragen an unsere Produktionsassistenz
Next up in SPOTLIGHT, the series that introduces you to the members of our team: Meli, our production assistant!
With only one and a half weeks left until our fanfic-inspired short film "The Hacker" starts production, Meli has her hands full with, well, assisting the production. This includes wielding her MS Excel superpowers for the greater good and making sure our director/producer Jay stays (relatively) sane.
Die deutsche Übersetzung findet ihr im Anschluss.
Previous installments: our editor - our composer
---
Name: Melanie Söllner
Role on the team: PA
1. How do you introduce yourself to someone who doesn't know you yet?
Classic Rock Girl with a serious tv show binge watching problem.
2. A classic: a lonely island, you, and three items. What do you take with you?
My iPod, because it has accompanied every singe one of my beach holidays so far; coca cola, to mix with the rum that Johnny Depp has hidden and a Swiss pocket knife, in order to cut up the limes for my Cuba Libre =)
3. You are kidnapped and the characters of the last tv show or movie you watched are tasked with your retrieval. Who do you have to rely on for your rescue?  
The last thing I watched was one of my favourite Supernatural episodes, so I'd say the Winchester brothers and their angel <3
4. If money were no issue for you anymore, what would be the first thing you'd do?
Plan the next holiday, of course...
5. What is the last thing you do before going to bed each night? 
Switch off or mute all technology...
6. Which character trait would you wish every human being to have?
Empathy
7. Imagine, all mobile phones, computers and all such communication devices stop working. What would be your first reaction?
Rejoice and sit down in front of my record player with my parents' vintage record collection, compile a playlist and laugh about Jay, who's probably walking up the walls already :D
[Jay would like to add: ... You know me too well!]
---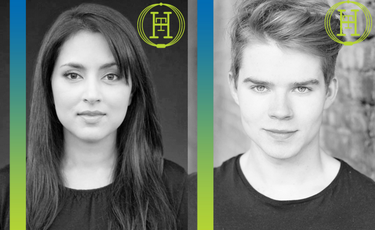 We're collecting questions for our leads,
Shabana and Ethan, who are going to do a Q&A video.
Tell us YOUR questions in the comments or on Facebook!
Wir sammeln Fragen an unsere Hauptdarsteller - hinterlasse uns DEINE FRAGE in einem Kommentar!
---
SPOTLIGHT: 7 Fragen an unsere Produktionsassistenz
In dieser Ausgabe von SPOTLIGHT, der Serie, in der wir euch unsere Teammitglieder näher bringen, stellen wir euch Melanie Söllner vor, unsere Produktionsassistentin.
In eineinhalb Wochen beginnt der Dreh von "The Hacker" endgültig - Meli hat somit viel zu tun. Sie ist vielseitig im Einsatz, nutzt ihre Excel-Superkräfte für das 'Greater Good' und sorgt dafür, dass unsere Regisseurin einen klaren Verstand behält...
Name: Melanie Söllner
Position im Team von The Hacker: PA
1. Wie stellst du dich jemandem vor, der*die dich noch nicht kennt?
Classic Rock Girl mit einem ernsthaften Serien Binge-watching Problem
2. Der Klassiker: einsame Insel, du, und drei Sachen. Was nimmst du mit? 
Meinen iPod, da er bis jetzt bei jedem Strandurlaub mit dabei war, Cola, um den Rum zu verdünnen den Johnny Depp versteckt hat und ein Schweizer Taschenmesser, damit ich die Limetten für meinen Cuba Libre schneiden kann =)
3. Du wurdest entführt. Die Charaktere der letzten TV-Serie bzw. Films, die/den du gesehen hast, sind mit deiner Rettung beauftragt. Wer wird dein*e Held*in?  
Ich hab zuletzt meine Lieblingsfolgen von Supernatural angeschaut also würd ich mal sagen, die Winchester Brüder samt Engel <3 
4. Wenn Geld keine Rolle spielen würde, was wäre das erste was du tun würdest?
Den nächsten Urlaub planen natürlich…
5. Was ist das letzte, was du tust, bevor du ins Bett gehst? 
Die ganze Technik ausmachen bzw. stumm schalten
6. Welche Eigenschaft würdest du dir in jedem Menschen wünschen?
Mitgefühl
7. Stelle dir vor, auf einmal funktioniert kein Computer und kein Handy, einfach kein einziges solches Kommunikationsmedium mehr. Deine erste Reaktion wäre…  ?
Voller Freude mit der Schallplatten Sammlung meiner Eltern vor meinem Plattenspieler sitzen, eine "Playlist" erstellen und über Jay lachen, da sie gerade wrsl im Dreieck springt :D
[Anm. von Jay: Du kennst mich zu gut!]
---
---