SPOTLIGHT: 7 Fragen an unseren "Pretty One", unseren Nebendarsteller Andreas Wilke
Next up in SPOTLIGHT, the series that introduces you to the members of our team: Andreas, who will play our male agent! He also has a website where you can find additional information.
With only a few days left until our fanfic-inspired short film "The Hacker" starts production, our team's anticipation is mounting.
Die deutsche Übersetzung findet ihr im Anschluss.
Previous installments: our editor - our composer - our production assistant
---
Name: Andreas Wilke
Role on the team: actor, "The Pretty One"
1. How do you introduce yourself to someone who doesn't know you yet?
Hi, Andy, it's nice to meet you.
2. A classic: a lonely island, you, and three items. What do you take with you?
 Firestone, knife and a picture of my beloved. 
3. You are kidnapped and the characters of the last tv show or movie you watched are tasked with your retrieval. Who do you have to rely on for your rescue?  
Vanessa Ives from "Penny Dreadful"
4. If money were no issue for you anymore, what would be the first thing you'd do?
My own theatre. 
5. What is the last thing you do before going to bed each night? 
Close the book!
6. Which character trait would you wish every human being to have?
To forgive
7. Imagine, all mobile phones, computers and all such communication devices stop working. What would be your first reaction?
Go on holiday!
---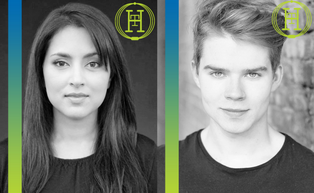 Watch Shabana and Ethan answer your questions in this Q&A video:
---
SPOTLIGHT: 7 Fragen an unseren Nebendarsteller Andreas Wilke
In dieser Ausgabe von SPOTLIGHT, der Serie, in der wir euch unsere Teammitglieder näher bringen, stellen wir euch Andreas Wilke vor, unsere Nebendarsteller, der "The Pretty One", einen Agenten, spielen wird.
Mehr zu Andreas findet ihr auf seiner Webseite!
In wenigen Tageb beginnt der Dreh von "The Hacker" endgültig - unser Team freut sich schon sehr und wird euch auf dem Laufenden halten.
Name: Andreas Wilke
Position im Team von The Hacker: Nebendarsteller, "The Pretty One"
1. Wie stellst du dich jemandem vor, der*die dich noch nicht kennt?
Hi, Andy, freut mich dich kennen zu lernen.
2. Der Klassiker: einsame Insel, du, und drei Sachen. Was nimmst du mit? 
Feuerstein, Messer und ein Foto meiner Liebsten.
3. Du wurdest entführt. Die Charaktere der letzten TV-Serie bzw. Films, die/den du gesehen hast, sind mit deiner Rettung beauftragt. Wer wird dein*e Held*in?  
Vanessa Ives aus "Penny Dreadful" 
4. Wenn Geld keine Rolle spielen würde, was wäre das erste was du tun würdest?
Mein eigenes Theater.
5. Was ist das letzte, was du tust, bevor du ins Bett gehst? 
Buch zu klappen.
6. Welche Eigenschaft würdest du dir in jedem Menschen wünschen?
Zu vergeben
7. Stelle dir vor, auf einmal funktioniert kein Computer und kein Handy, einfach kein einziges solches Kommunikationsmedium mehr. Deine erste Reaktion wäre…  ?
Urlaub machen
Weitere Teile der Spotlight-Serie: unsere Cutterin - unser Komponist - unser PA
---
---